Connect with your social network account
New
Posts: 3
Joined: Tue Jun 05, 2012 4:04 pm
hey heres my mk2
Model
- 1985 comet blue coupe s 53,000 miles
Engine
- 1.3 8v solid lifter engine with a 4 branch manifold and accuspark electronic points kit, 10' slimline rad fan
Suspension
- TA Technix shocks, jamex front springs, eibach rear springs.
Brakes
-standard old type.
Wheels & Tyres
- 13x7 ET20 Mattig steels with 175/50/13 tyres and 10mm spacers on rear
Exterior Styling
- pinstripe removed, crystal rear lights with bottom half tinted, derby lights, eyebrow spoiler, smoked indicators, aero wipers
Interior Styling
- coupe s interior, momo style steering wheel with volkswagen horn button.
Ice/Security
- JVC stereo, FLI active 10' sub
Comments
- okay, so this was my best friends car, along with my other coupe. unfortunately in 2010 he was killed as the passenger in a car from someone driving like a DICK. hence why i dont drive like a tool believe it or not.
shortly after, as i was learning to drive and they needed the space, his parents offered me his other coupe. i owned it almost 2 years building it up as i went along, and i have now sold it on to make way for this one.
it has done 53000 genuine miles, is comet blue, and the interior is actually mint! body wise it needs some panel beating on the passenger rear 1/4 and the bonnet but that will be sorted in good time.
Plans
-
generally clean up the car and make it mint/something he would be proud of.
Pics
-
2010 for sale pics of the car: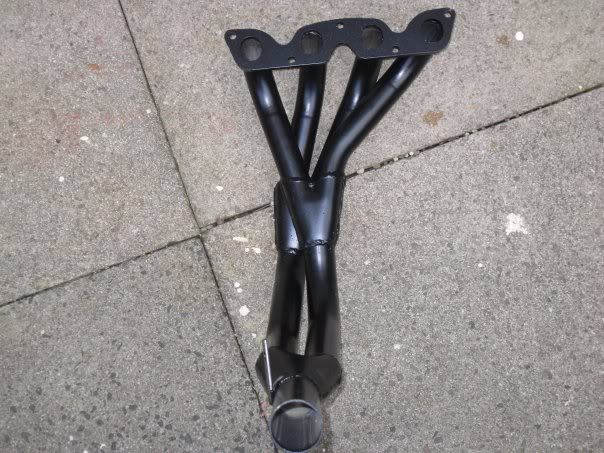 then some pics after it was lowered
then i raised the back up to get rid of the reverse rake

and a few pics of both the polos together (ignoring my temporary wheels lol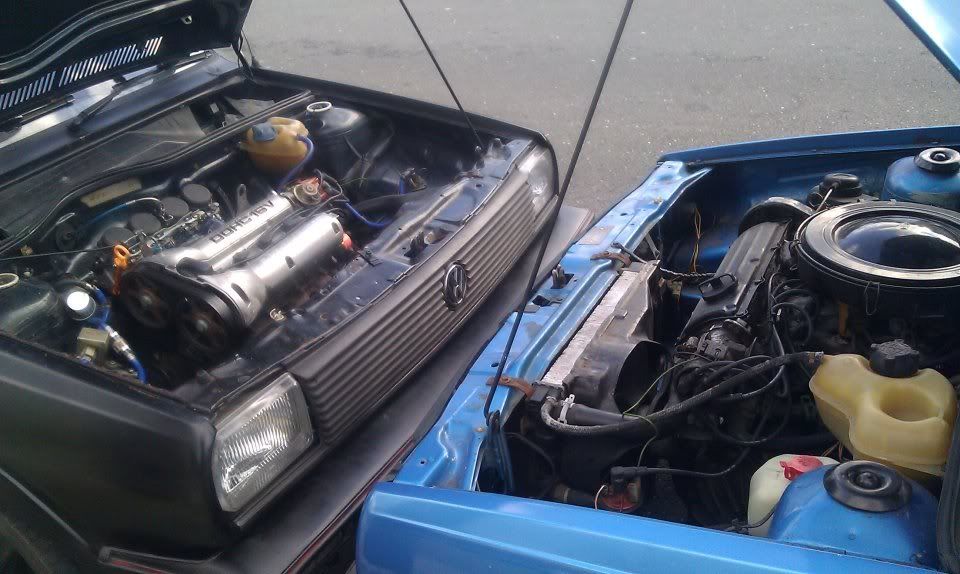 the interior. looking alot fresher
tried the front and rear lights on, pretty happy with how they look. just need the bonnet strip on.
HOWEVER, due to the different style of brakes to my later coupe, the starmags DONT FIT. GAY.
gonna put the bakes off the other coupe on it if i can.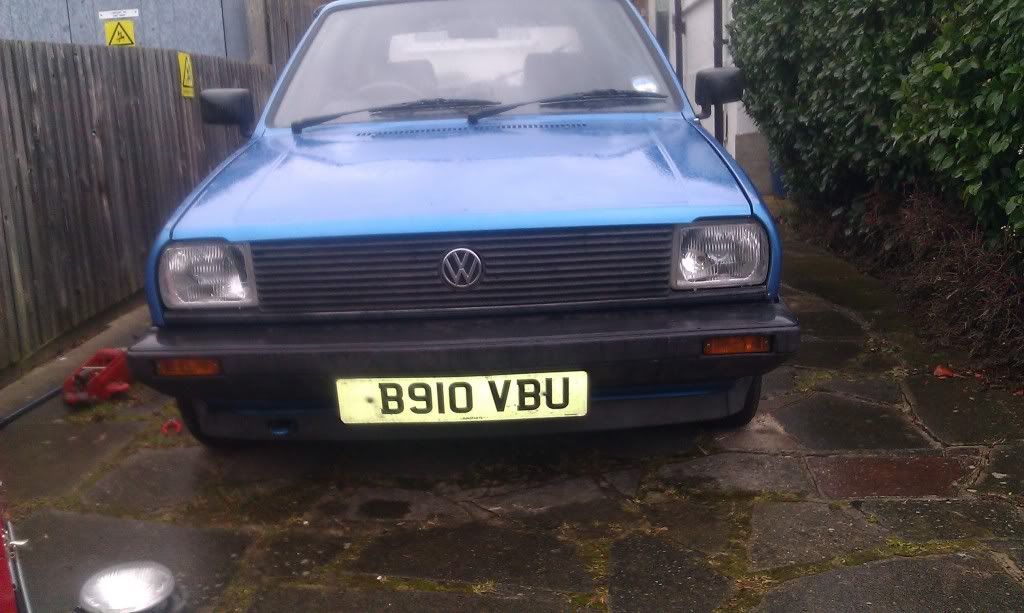 also, the mileage
some pics from the other day! last time it will see my other coupe as its now gone
wow camera phones suck!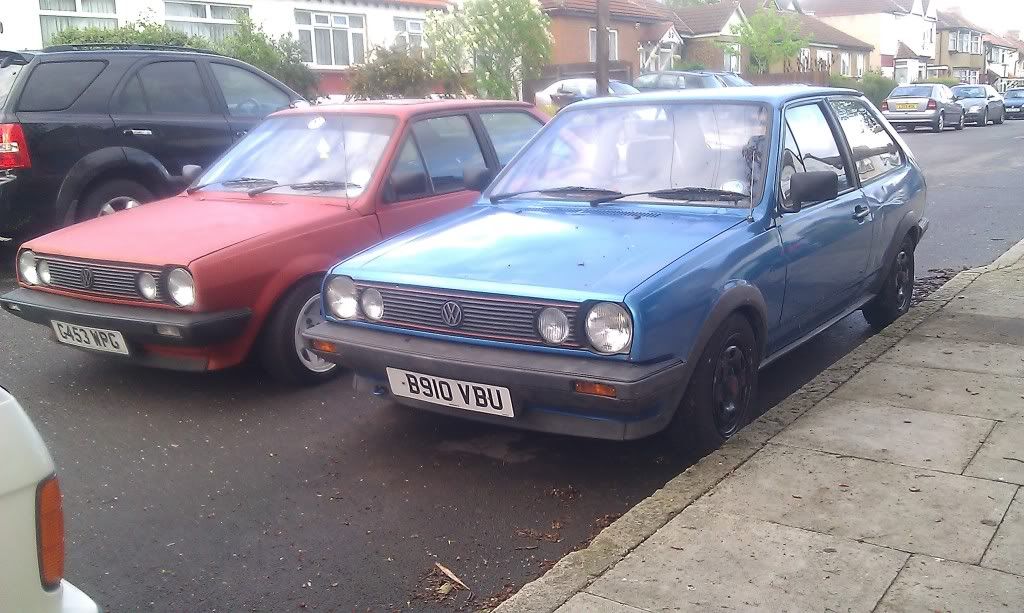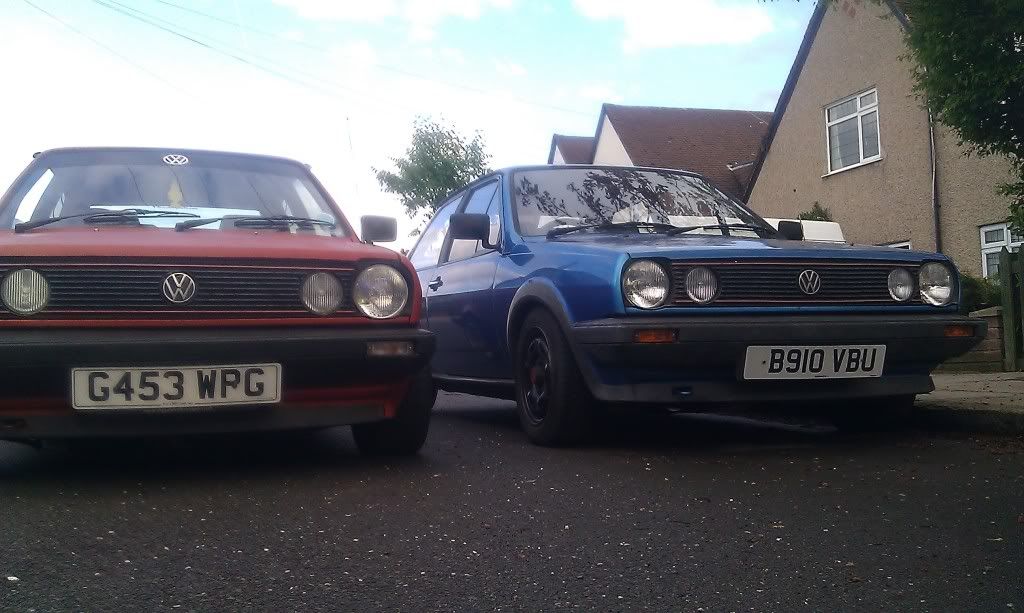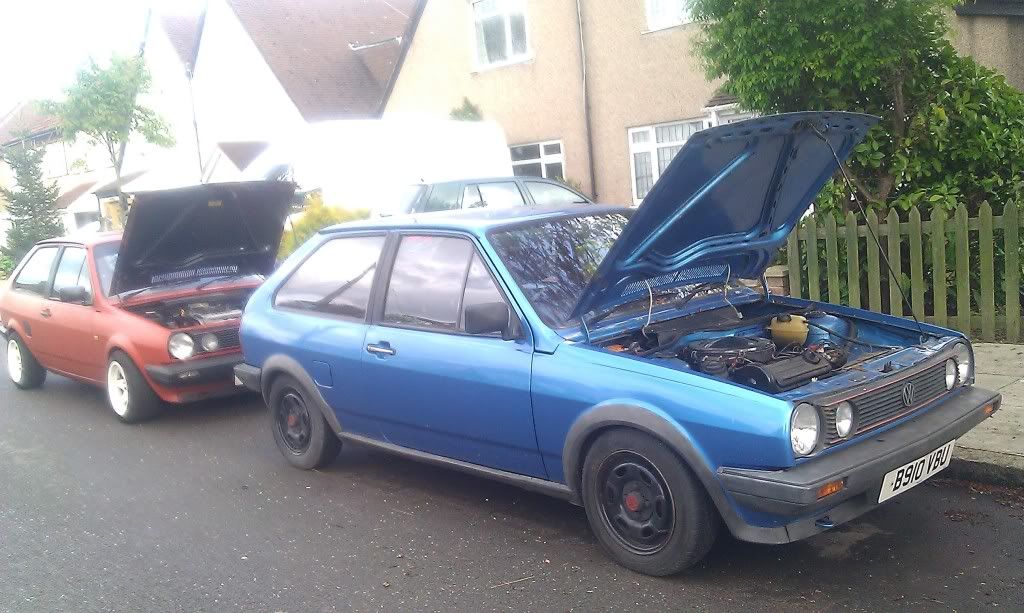 After washing the car and heatgunning the plastics!
Just picked up a clay bar kit from halfords too!
new carb rubber fitted (runs alot better!) and eyebrow spoiler fitted (will look better i think with derby lights and when the wheels are on)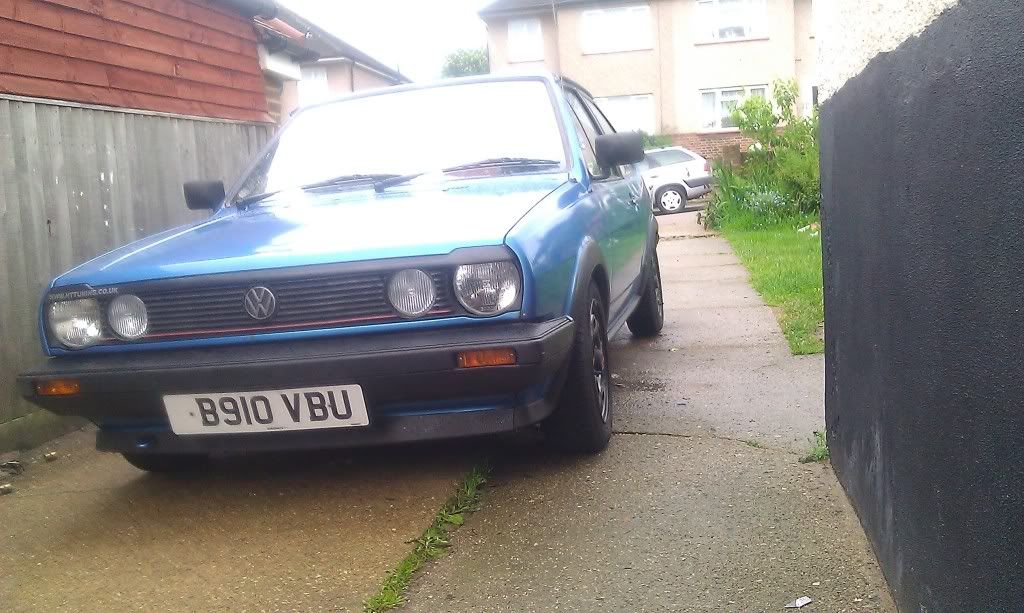 a little beading
more updates this week when the postman delivers!!
well, FINALLY sorted the running problems!
literally changed everything! the one thing i forgot was the HT leads, and guess what was causing the problem!
also adjusted the tappets today, first time ever doing it and there so easy!!!
carb has a bit of a flat spot at low revs, any ideas?
fitted my smoked indicators and steering wheel. picking up the wheels tomorrow
loving the 1.3 life haha!
engine bay (need a descent looking filter)
WHEELSSS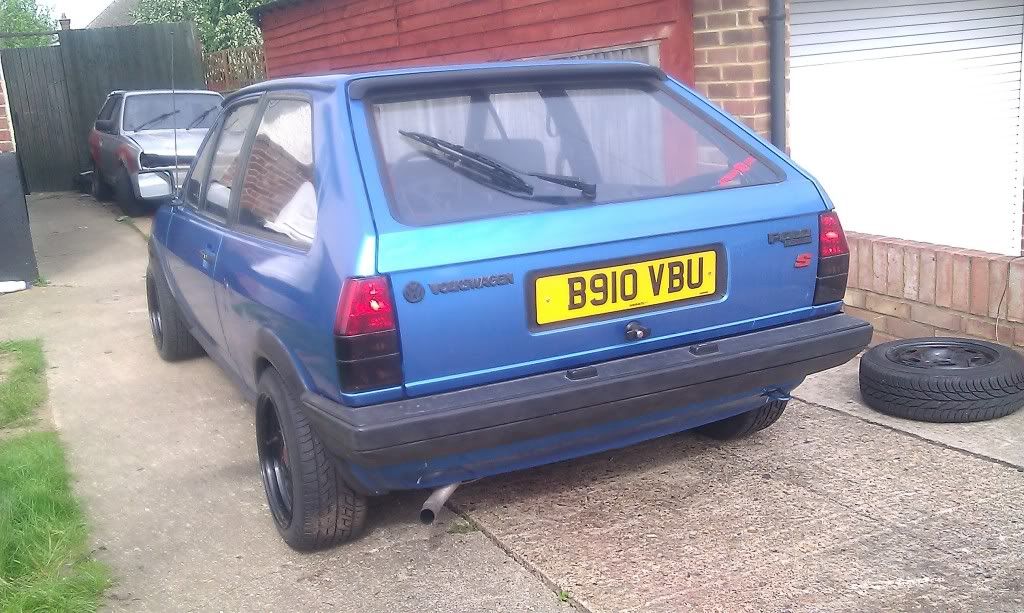 cant lower it any more just yet as the suspensions too soft. will slam it when i get coilovers! looks sooo sweet now! perfect offset for the front! happy eric
Vw horn button (cant get it to work though!!??)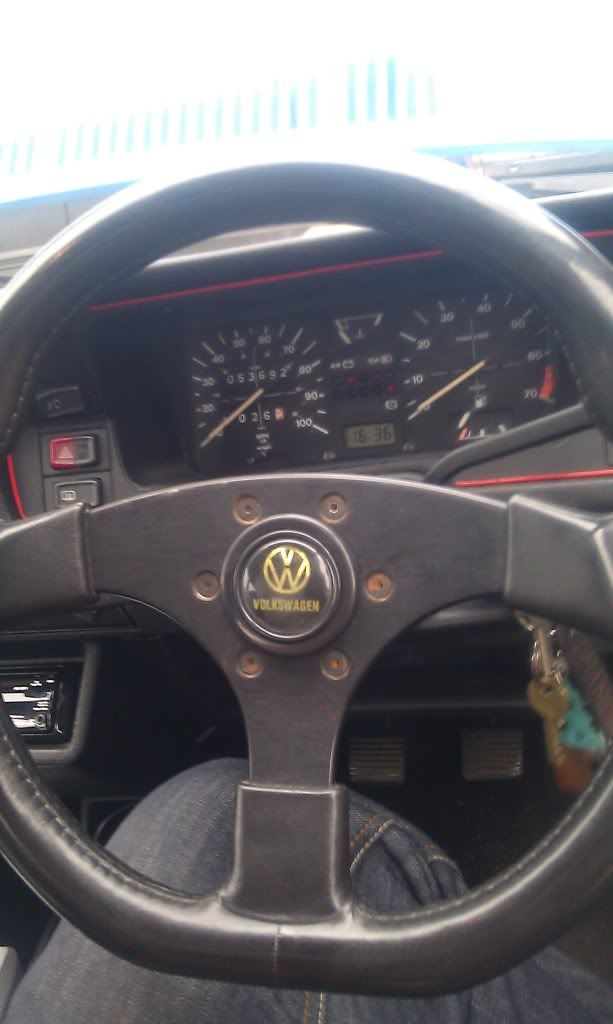 Slimline radiator fan fitted, looks great and much more room in the bay!
Derby lights are going on now! More pics later!
lights, camera, action!!!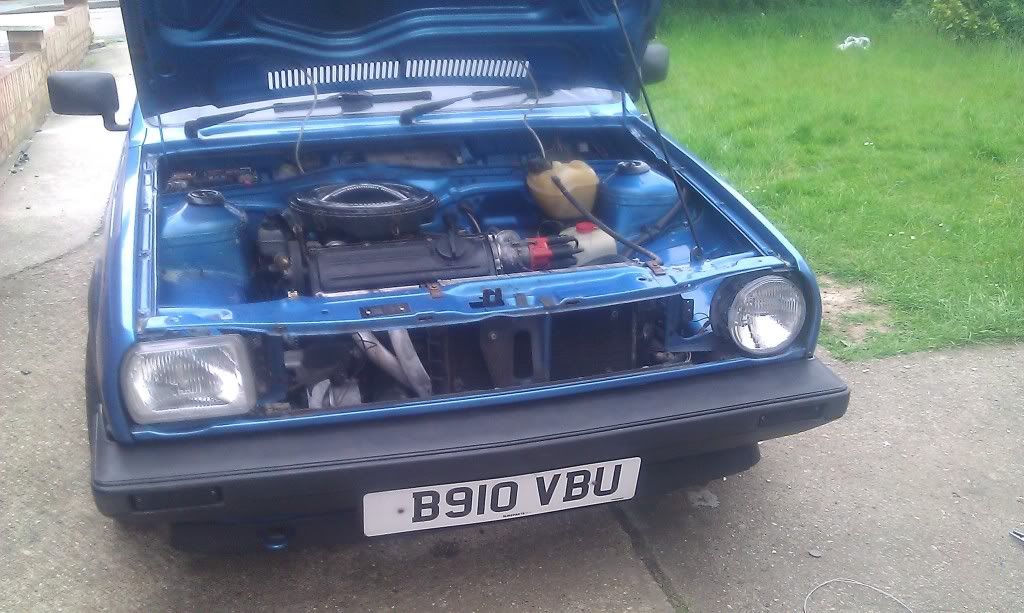 i think shes lookin hawtttt!!
i need a way of rolling the arches but keeping the plastic arches too. any ideas?
plans are:
remote central locking
electric windows
get side damage fixed ASAP
6n ormk1 golf rear coilies
ARB blocks
mk1 golf front coilover conversion
get rid of the middle exhaust silencer and fit a nice upswept tailpipe
GT 5 speed gearbox and 5 speed ARB
ENJOY
found a nice little spot for a pic, shame i only had my phone camera! ill get some descent shots when my girlfriend gives my fuji back! WHORE!
but yeah. hubba hubba
pics of exhaust. my drives on a slant so IGNORE THE ARCH GAP
new relocated washer bottle
and new speakers, not mega powerful, but for the money there great!! really happy with them!
one of the old speakers LOL
installed my rev limiter.
things in the post
electric window kit
yellow headlight bulbs
chrome indicator bulbs
mudflaps
possibly OMP steering wheel
---