Hello, First of all Im sorry for my bad english. I hope you dont mind.
Few days ago while I was driving my fuel injector died (cylinder no 3), I swaped injector with refubished one and programmed the new one with VCDS. Car started normally without any problems but changed injector was knocking louder than other injectors but it was ok to me.
While driving I noticed that car strugless at around 1200rpm so I knew that something is not right so I went to look at injection amount deviation.
Here is the result:

After that I started adaptation of injection amount deviation, but even after 20 minutes nothing happened. Car was running from 1000rpm to about 3500rpm endlessly so I decided to stop the adaptation because I found somewhere on forum that engines with dieselgate software cannot finish the adaptation.
After that I checked again for injection amount deviation for each cylinder and here is the result

this seems better to me but the thing is that car now runs roughly at 1000rpm and it behaves strangley engine shakes like it has epilepsy attack, it is loudly knocking and produces white smoke if you push throtle all the way down while it is at low revs. At 850rpm's it runs ok and also over 1500rpm seems to be fine.
So can anyone help me to solve this problem because Im stuck. Also can anyone check if I have dieselgate software running on my car or Im ok? I have VCDS, FVDI and FGtech so I can reflash it without problem if needed.
this might also be usefull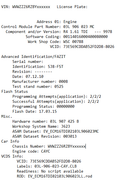 Im sorry about images but I got "forbidden. contains contacts" error message