Welcome to the GTI Section of UK-Polos
This guide was created to answer the most common questions we get asked by new members about the Mk5 and especially the GTi and also as a reference point to existing members.
The 'Mk5' is also known as the 6N2, which is VW's internal code. It was produced from model year 2000 until the end of model year 2001.
The GTi is a 1.6 16v Engine, producing 125 bhp. It differs from the mk4 16v engine, as it has Variable Valve Timing.
The most common version of the Mk5 Polo is the three door model. The 5 door model was available, as was the stationwagen (known as Variant in Germany) and a sedan (known as Classic) made the lineup complete.
Common GTi Modifications:
De-Badging
(Getting rid of the Polo and GTi on the back)
The 'Polo' badge is glued in place, and leaves no holes in the bodywork if removed. Use Mole's guide to remove the badge to clean up the rear of the car.
Removing the rubstrips
These have to be done professionally, ideally by a bodyshop, as the bump strips are made of plastic and clip into the recesses inside the bumpers.
Bump strips on the side of the car have clips as well, with holes in doors/rear quarters.
The best method of removing the bump strips on the bumpers is to get them plastic welded, in order to ensure long term integrity. The side strips should be removed and recesses welded in.
Typical price for 1 bumper to be smoothed and painted varies from location to location. Expect to pay 200 a bumper.
For example see picture above.
Fitting a black Interior Mirror
This can be purchased either brand new from VW or from your local scrapyard. There are several mirrors that will fit the Polo.
They are from either:
Lupo GTi
Mk2/3 Golf
Black Front Badge
These were originally available from the VW dealerships, as an accessory however are now out of production. The best way is to either get black tape or get it painted.

Badgeless Front Grill
Comes in 2 main varieties, honeycombe or slated.
Honeycombe –
Most common/desireable version is the Kamei Grille. It retails at 120 pounds, can be bought from main stores. (For shop options check Store section)
There's also available a replica version of these on ebay without the Kamei badge. These retail for around 35-50 pounds.
Slated –
This can be purchased from either German ebay or British ebay, or at the major shows over the summer. Expect to pay 30-40 pounds.
There's a recess in the bonnet from where the original grill sits, so this would have to be filled in professionally. Be prepared to pay over 100 pounds.
Smoked Side Repeaters
If you wish to go for a dark look to the car, these can be purchased from any major store.
HID Conversion
To give your car the Xenon look, you will need to invest in 2 things; projector headlights and HID Ballast Kit.
The options for the projector headlights are either :
GTi headlights, which can be purchased either brand new from VW dealership or found on a written off GTi in a scrapyard.
Brand new expect to pay 200 pounds a headlight.
FK Angel Eyes – come in either chrome or smoked colours. Can be purchased from the major shops or German Ebay.
HID Kits – Come in variety of colours ranging from 3000k to 16000k, with the smaller the figure the whiter the colour given off. Best place to buy these would be from an authorized retailer, such as HIDs4U.
For the Angel Eyes you will need an H7 Kit, for the GTi headlights it will be a D2S Kit.
Rear Lights
There are a variety of different styles to choose from, however the more popular ones tend to be either the Hellas, the originals changed to LEDs or the Angel Eyes.
Hella Rear Lights – Come in either Black, Chrome or Blue colours.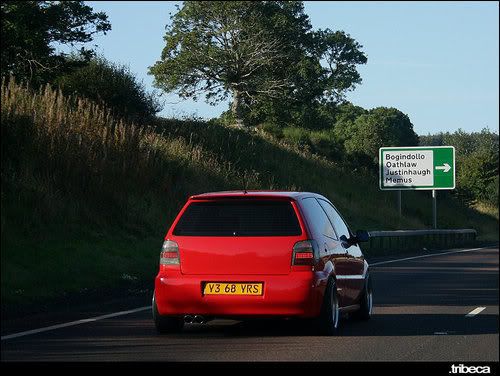 These can be modified (tinted to look differently)
Best place for the black Hellas are British Ebay, you can get them as cheap as 40 quid brand new. For the clear ones, try the major stores. These are more expensive at around 110-160 mark.
Mk5 rear Light LED Kit - Tegwin
One of our kind members is providing an opportunity to install LED boards in your standard lights, to give them the LED look.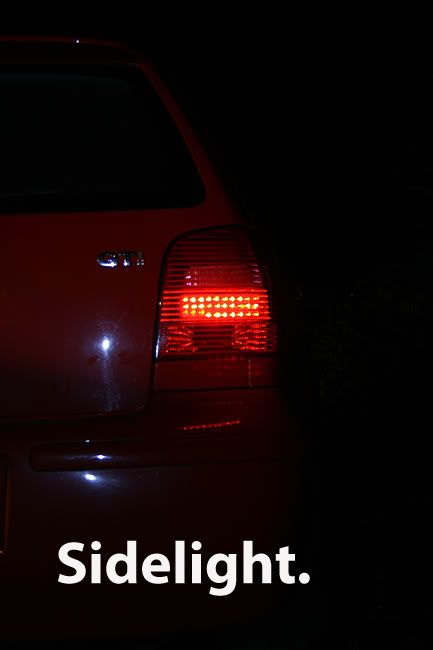 For Angel Eyes, I have limited knowledge and am unable to comment.
GTi Floor Mats
For those looking for a replacement, or those wishing to upgrade theirs on their Mk5. These are the part numbers you need.
6N2061225E ALAS - Front
6N0061226E BLAS – Rear
For future reference, part number for the front mats is 6N2 061 225 E ECG and the description on the label is CARPET MATS BLK/RE. Although my contact in TPS said mine were the last set in the country on his ETKA screen...
The mats come with the fixings but you need any more or you break your own fixings they come in two parts and so there are two part numbers: 3B0864523 (bottom part) and 3B0864521A (top part).
Finally there are the screw-in "anchors" for the floor, these are 3B0864812A.
These are black with red stitching on the side
Door Sills
There are 3 main types of door sills you can buy for the Polo. These help to protect your sills from shoe/heel damage and also enhance the look of the car.
The Kamei Door Sills – Can be bought from Germany or Kamei Direct – Alluminium self-adhesive
Go to German Ebay and type in 6n2 Kamei. Should come up first thing
Lockwood Door Sills – British Ebay type in Lockwood Polo
Mk4 Golf Anniversary Door Sills
Have to be purchased from main dealership and then trimmed to fit.
Audi TT Pedals
These can either be bought brand new from dealership or from Vag Parts. Can also try the Lupo GTi pedals.
Delocked Door Handles
These would have to be purchased from the 5 door model (rears) and then painted and fitted onto the car.

280mm G60 Brake Disc Upgrade
The standard Polo GTi brakes are 256x25mm
The G60 ones are 280x22mm, but you can use the carriers off any car with 280x22mm brakes, even the 5-stud ones, so the list of donors is af follows...
Mk3 Golf GTi 1992-1996
MK3 Golf VR6 1992-1995
Corrado G60 & VR6
Ibiza Cupra 2.0 16v 1998-1999
Ibiza Cupra 1.8T 1992-2002
Be aware, that Mk3 Golf GTi/VR6 later models had slightly larger 288x25mm brakes, and these arent any good to you.
Another way of identifying them is the 256mm and 280mm ones will have either lucas or girling written in the casting, and the 288mm ones will say ITT or ATE.
You can use the calipers off the with 280mm brakes along with the cariers, as you can then use the G60 pads as these are thicker so will last longer, but you will have to come up with your own solution for a brake hose as they wont take the Polo banjo hoses, and the calipers are wider so may cause problems with some wheels.
If you re-use the Polo GTi calipers, you will have to use the Polo GTi pads, but the 280mm discs are a bit thinner than the Polo GTi ones, as are only 22mm thick rather than 25mm, but shouldnt cause too much problems but I woudln't run the pads right down as the piston will be sticking out further than it normally would.
You can purchase the parts from either VW, or from a scrapyard.
Expect to pay 100 pounds for the carriers, 80+ pounds for brand new discs, 30+ pounds for pads and 60 pounds for calipers.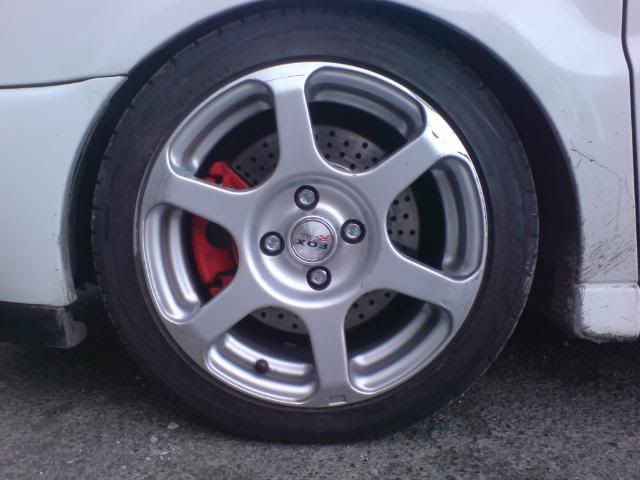 Shortened Aerial
There are various aftermarket options, the most common are:
Enfig S2000 Aerial – fits flushly with base, retails at 35 pounds. Can be found in America/group buys for around 22 pounds.
Honda S2000 Aerial – Pretty much the same as above, however doesn't fit as flushly with base. Expect to pay 15 pounds. Try either Honda garage, scrap yard or Ebay.
Shortened OEM Aerial – available from local motor factors for about 5 quid.
Aero Wiper Conversion Kit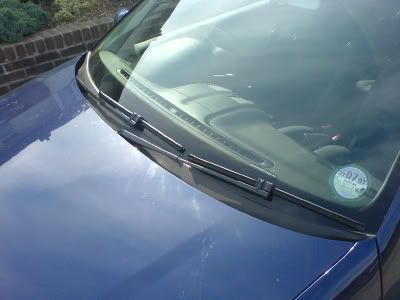 These are sold via dealerships/Vag Parts. You will need the arms and the blades. Cost around 60 pounds
The part numbers, if you wish to buy from VW
You will need two passenger-side arms - is 6X2 955 409 C.
The wiper blades are part number 1J2 955 425 B.
They need very little modification to fit according to users which have carried this out.

Retro Fit Aero Wipers
Cost around 15 pounds – flat blade wipers. Check Ebay/Local Shops.
Black B-Pillars
These are done via either Vinyl or painted on. For vinyl, go to ebay and type in Viper Stripes, only cost about 5 pounds.
To get them painted professionally, expect to pay 50+ pounds.

Red Piping on the Grill

These can either be done using Electrical Tape from Halfords. This is best done by heating it up prior to application, or using special trim tape, sold via ClubLupo.

Cruise Control
This can be fitted, using a Transporter T4 stalk, and reprogramming the ECU. Awesome GTi offer this service for 195+ VAT.
Colour Coded Rear Badge
- Black Badge
Black badge discontinued for the rear, as the front one, however can still be found on ebay for about 20 pounds.
Another idea is to colour coded the centre inserts with the car colour. The badge needs to be split into two and then painted and glued back together.
Take it to a bodyshop for best results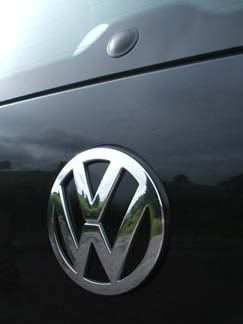 De-wipering the rear window
For this modification you will need a bung from Halfords. Get 3 for 2 pounds. You will need to take off the rear tailgate cover, and remove the window motor. There's a guide in the DIY section.
Stubby Driver's Side Mirror
Polos were originally designed for females (:O) so they incorporated a large blind spot section in the mirror. A common modification is to purchase a LHD or a Lupo Mirror. Best way is to purchase one from German Ebay, expect to pay about 38 pounds. This will then also need to be resprayed in the car colour/other colour.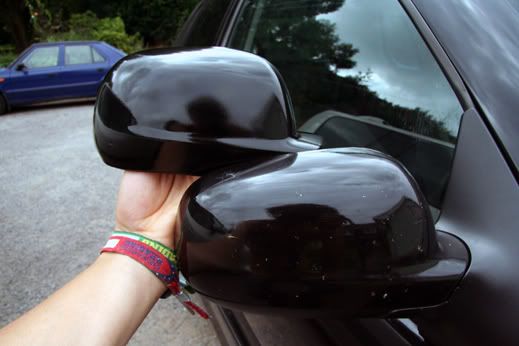 Bonnet bra
A bonnet bra is used on motorways to protect against stonechips. It's made of leather, and must not stay on the car for longer than a period of 7 days. You can purchase them either from Autobra.co.uk or German Ebay from a user called PS-Bra-Production. Expect to pay 50 pounds + new.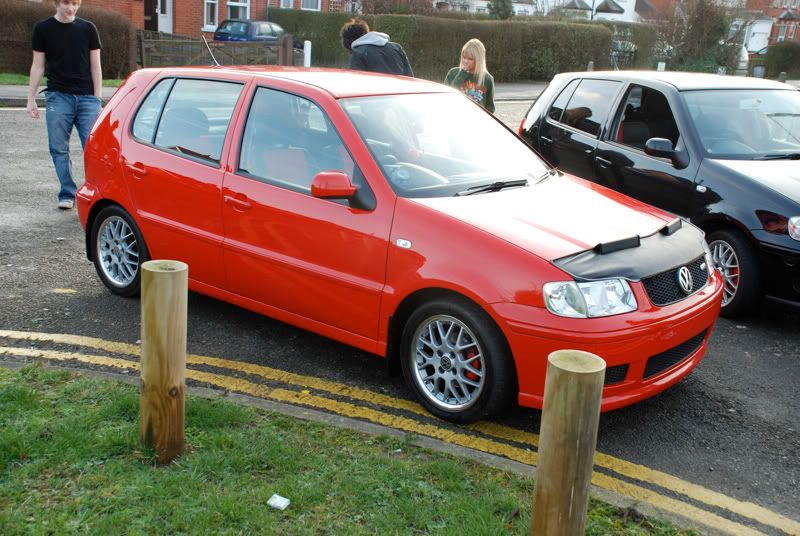 Wind Deflectors
These come in very handy, if you wish to reduce wind noise when driving on motorway, as well as rain coming in. They also give the car a small tinted look to them.
These can either be bought from Climair (high quality) or Ebay (medium quality) imported from Poland/Germany. Climair price is about 40 pounds, Ebay 25.
You will need the 1994-2002 3 door wind deflectors for 3 doors, 5 door for the equivalent.
Pressed Plates & Number Plate Surrounds
Replace your stock number plates, for something cleaner and simpler. Be aware that pressed plates are metal, and therefore are not plastic, like standard, so be wary of getting pulled, as they are illegal.
You are more likely to be pulled for German pressed plates, than British.
Typical price of pressed plates varies from 15 pounds to about 30, depending on style/any other additions.
If you are buying a set of german show plates, maybe look into investing in some Stadt seals, to give them a complete german look.
Be aware that maximum possible fine for number plates is 3 points per plate and 30 pounds fine. However the heaviness of endorsement is dependant upon traffic officer.
Another alternative is to add number plate surrounds, these have to be fixed with screws so will require drilling into the bumper, if yours has been smoothed it's not advised for the front. Price of these varies from place to place, they can be bought from either a local dealership or Dubmeister, etc.
If looking at buying some, check out Dubmeister, The Plate Man, or vendors at shows. For British plates, try to contact
designaplate@aol.com
. ClubPolo had a group buy through them.
Headlamp Protectors
These are used to cover the front of your headlamps, in the same fashion as a bonnet bra, to protect from stone chips/etc.
These can be bought either brand new from the dealer in the region of about 32 pounds, or on ebay for about half the price.
Performance Modifications
Induction Kit
The best way of getting the most out of the very un-tuneable engine is to improve the airflow into the throttle body.
There are 3 main options, a K&N Cone Filter, Pipercross Mesh Filter or the BMC CDA (Carbon Dynamic Airbox). With air filters, just as with pretty much everything, you get what you pay for.
K&N & Pipercross tend to have quite a lot of heat suction, as they sit right on top of the throttle body, and have no isolation from the warm air around the engine.
The CDA is enclosed, hence providing more gains. As an example Mouse GTi's car scored 126.9bhp on the rollers with just a CDA.
The induction kits are mounted right on top of the butterfly valve..
The CDA – Expect to pay about 160 pounds
K&N & Pipercross – under 100 pounds.
Exhaust System
The exhaust system consists of a middle section, and a backbox. The middle section includes the catalytic converter (cat) and has a lambda sensor at the back for emissions calculations.
The backbox is used as a silencer for the exhaust noise. Both can be upgraded in order to improve the flow of exhaust gases out of the engine.
A standard exhaust tends to have a relatively narrow diameter, therefore most aftermarket exhausts tend to be larger, usually 3"-3.5".
You can buy exhaust systems as a whole or separate. These can be bought off-the-shelf, or custom made.
Off-the-shelf exhausts. For a full exhaust System, try contacting the following leading manufacturers:
Remus
Superspring
Scorpion
Miltek
They will offer either both the middle section and the backbox. Expect to pay 180+ pounds + fitment.
Backboxes can also be purchased independently, these can vary in price and sizes. Ebay universal ones can cost as little as 40 pounds + fitment, whereas custom will cost 200+. Choose one carefully, as the backbox determines how loud the exhaust will be.
These come in a variety of style, if you look at the company websites they will be displayed.
Custom Exhausts can be purchased from specialist shops, such as Powerflow. These can be found in either your local directory or magazines. They will make an exhaust to your specification.
Gains to be gained from exhaust upgrades are variable upon many different things, so it's hard to predict without rolling roading your car. Expect gains from anything as small as 1bhp to as big as 10bhp.

Manifold
Manifold is what connects the exhaust to your engine. It provides significant down pressure for suction of the gases, and is a vital component of the car.
These can provide great improvements on modified GTis, and are best combined with an air filter, remap and exhaust for optimum performance.
These can be bought from Raceland for about 180 pounds. Check Jackson Tuning section of ClubPolo.
A former GTi owner, Richard Harper, achieved 138bhp with exhaust and manifold.

Custom Engine Mapping - Custom Chip
The ECU of the engine controls all out of important components of how your engine is running. It's been set up by VW to optimise all of the consumers' preferences. This implies fuel consumption, fuel type, air flow, exhaust system, etc.
If you are planning on modifying your engine, the ECU will still be running with original instructions preset. This means to get the biggest gains, you will need to get the ECU either chipped or live mapped. This would mean it would be set up for exactly what your car has or has not.
As an example, a BMC CDA tends to provide more air for the engine, which in my case gave me an engine warning light for the engine running lean. This is a case of too much air running to the system of it not being programmed to handle that.
A chip can be purchased from Poloace on CP, or a live map can be carried out at any major ECU-software company such as ChippedUK, Chiptronics, Jabbasport, etc.
For a chip expect to pay 150+ fitment, live map is 250+.
Upgraded Camshafts & Vernier Pulleys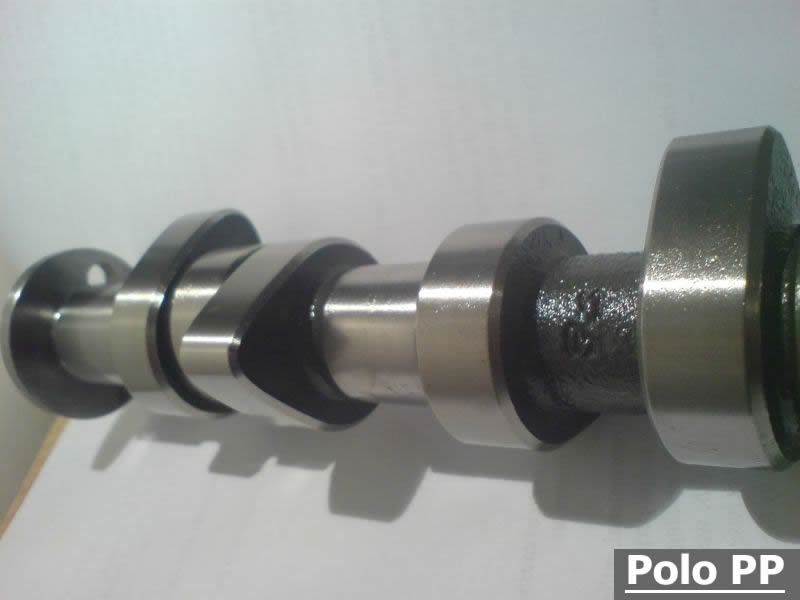 These tend to alter the power delivery of the engine, as the original camshafts get replaced. They tend to remove the torque from bottom range, and allow for a lot more free-revving, higher break horse power at higher RPM.
As GTi has 16v, you will need 2 camshafts and 2 vernier pulleys for maximum gains.
These provide the most significant gains, of possibly 160bhp+ output if combined with those above.
Typical price is 200 pounds for each cam, 50 for each pulley.
Recommendations are Shrick Cams, which can be found through Polo Performance Parts.
Diagnostics Read-Out Using Climatronic (Air-Con)
The buttons you need to press, in order to activate the diagnostics mode, are Fan Down, Temperature Colder and ECON at the same time. Press ECON to exit.
Know English Channels,
1 Interior temperature (sensor)
3 Sunlight sensor
7 Coolant temperature sensor
9 Blower speed (adjustable)
10 Measured blower speed (sensor)
11 Defog valve (adj. 0-255)
12 Dashboard ventilation valve (adj. 0-255)
13 Recirculation valve (adj. 0-255)
14 Lower ventilation valve (adj. 0-255)
16 Speed (sensor) (KM/H)
http://www.compartelo.cl/upload/37693/c ... tronic.pdf
There's 54 different channels on the GTI climatronic, a couple of them don't do anything.
Channel 24 MAY be the oil temp. For it measured 38.7C when the engine was running at 90C. further test to be carried out.
Here's a picture of what it looks like:
01 is the channel number, which in this case is the Interior Temperature
28C is the reading. So it was 28C in my car at that point!
You can change which diagnostic number by pressing the temperature buttons on the unit.
You can alter the readings on some channels by pressing the fan up and down buttons on the unit, for example this one: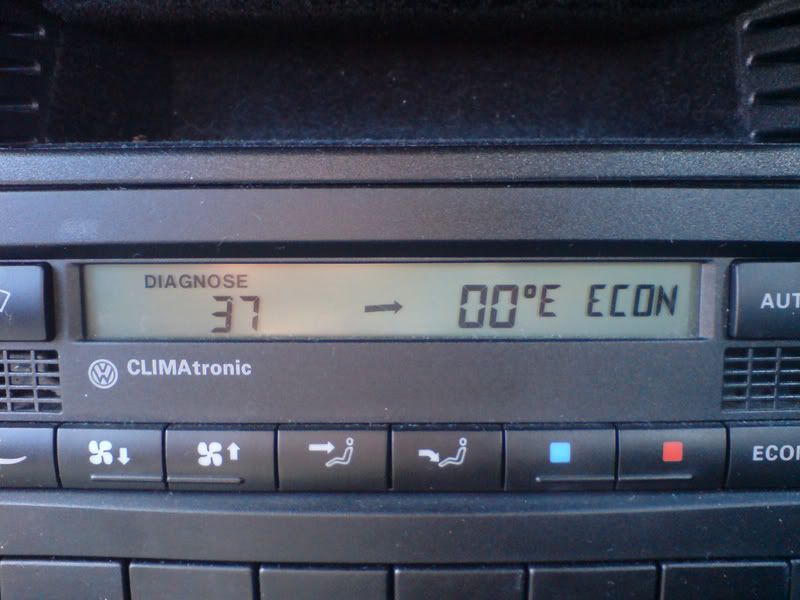 It's the first channel, so it's classed as '0'. It controls the fan speeds.
Here it is currently set at 37, but it could run from 0-255 (IIRC).
And here's a video of operating the Climatronic Device
https://www.youtube*.com/watch?v=gKSK7YkVt3A
Wheels and Suspension
Wheel sizes
The stock wheels were 195-45-15's (GTI, see first pic). Similar (or nearly equal) in diameter is 195-40-16", which of course was not an OE wheel size. This means that if you stick to these sizes, you're good to go. Aim for an offset of 35 - 43. Offsets are explained here. Any other sizes means you're more likely to run into trouble. The Mk5 is prone to rubbing if the diameter is increased even slightly, for instance if you're fitting 195-45-16 wheels + tyres, instead of the correct height of 40. This is also the case, if you're running 195-50-15's instead of 45-series. Get the right size, you'll be glad you did.
Smaller, wide wheels are popular too. For instance, 195-45-14 looks small and wide, but if the car is lowered enough, it has that cool rollerskate look to it. Keep an eye on the ET though, even small wheels rub if they're poking out enough.

Suspension
The Mk5 came with gas filled shocks and slightly shorter springs. Still, Polo's look like they're afraid of the pavement, so lowering the car will improve the look of your motor tremendously.
As with most mods, buying cheap means buying twice. With suspension mods especially, you get what you pay for. My advice: do it right the first time. There are several options to meet your budget.
1. Replacing the springs. If you buy shorter springs the car will sit lower. Fair enough, but the standard shocks you're using are not meant to work with the shorter springs. Hence, the maximum ammount of lowering is limited to 30 - 40 mm. Even then, the shocks will not last as long as they would otherwise, and the ride and handling may be poor.
2. Replacing the springs and shocks. If you get a kit that has the shocks matched to the springs, you'll be getting a significant improvement over the first option. The dampers will be able to cope with the shorter springs, and, since they're uprated, will handle better than the stock shocks. Drop can be anywhere from 30 - 60 mm.
3. Getting coilovers. A must have for show cars, or true tarmac fetishists. I'll try to explain these. Okay, you've seen regular springs and shock absorbers, right? They're completely seperate and you can replace the springs with shorter ones if you wish. That's about all you can do to adjust the height of the car.
Now for coilovers, they are springs and shocks too, but the springs are much more compactly rolled around the shock. Also, they come fully assembeld whereas regular shocks and springs need assembling. The real benefit of coilovers, however, is in their adjustablility: With regular McPherson shock absorbers, the spring seat at the lower part of the shock is fixed in place. On coilovers, the spring seat is not static, but, using a hook like tool, you can turn the seat so it sits higher or lower. This in turn, makes the spring sit higher or lower, which makes the car higher or lower. They are most known for being able to go really low (up to -140 mm on some cars), by the way.
There are a few more interesting things about them, but the above is the real 'killer app': To be able to adjust the height of the car manually. Something that's impossible with traditional McPherson struts. Porsche uses this type of suspension on all its models btw.
For Reference - Coilovers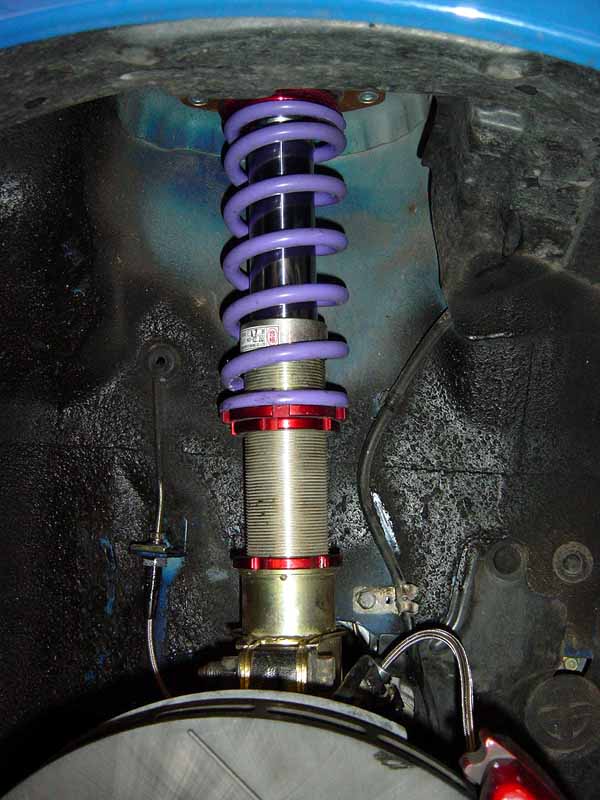 Springs and Shocks
Buying coilovers, first place should be Jackson Tuning on ClubPolo, he offers some of the best prices. Alternatively try Venom Motorsport, who are now offering AP Coilovers, which are the budget KWs, which are Zinc Coated, and prevent seizing from happening.
SHOPS DIRECTORY
Type these into google, 9/10 times the first one to come up is the one you are looking for.
Venom Motorsport
Rimstyle
VAG Parts
Ebay UK
Ebay DE
Awesome GTi
Autobra
http://www.potn.co.uk
http://www.tuningwerkes.com/
http://www.kam-racing.com
Feel free to contact me and more information will be added on. I hope the reciprocating users don't mind me using their photos/information.