Right I've decided to edit this post so we can see my progress (or lack of) from day 1.
My first car was a pug 106 gti, which I loved & was soooo quick,..... well for a first car compared to what your average 18 year old has to buy nowadays!! Any way yes it was quick I've already said that, but the car was so pretty uncomfortable & the 106 gti's are like a tin can on wheels so relitavely unsafe (for a 18 year old!) so I was contemplating upgrading, but didn't want a 'slow' car now so I soley focussed of 206 gti's.... & I am so glad i didn't buy one of those
Meanwhile my mate had just put a deposit down on a new car - A Polo gti! - at the time i knew nothing about the cars or had'nt even noticed them, then I went with him to pick it up from a TVR garage (Random) & pretty much fell in love with it, It was a silver 2001 Lowered on Eibach Springs & It looked the dogs, it was a car I wanted & I decided there and then as he handed the keys over to my mate I thought - - I'm gonna get one of those one day'
A year or so went by, looking daily on autotrader & ebay for a 'mint' gti with leather... & eventually in early 2008 (i think) months after I started looking I found a gti, local with low miles 32k & leather.
Viewed the car & it was great apart from, the body work had a good few trolley dents & a bit messy, but the interior engine & everything else was spot on. the car cost just under £5k!
First Job was to get the bodywork sorted, so it went up to the body shop where I had the Sides fully resprayed & the bonnet sprayed.
Next on the list maybe a year later (i move slow) I got coilovers & dropped it, but not too low, just right. Months later added the red grill trim, bought some g60 steels & winter tyres (for the winter would you believe) . A refurbished gear box & clutch went in at 50k ish after it went 'pop' then I think that brings me up to date with the next post when had the original 15'' bbs' refurbed & put on.
...................
Weather seems too nice now for winter wheels so got my 15'' refurbed bbs' on today, & give the car a wash & wax.
Before on g60's with big winter tyres lol: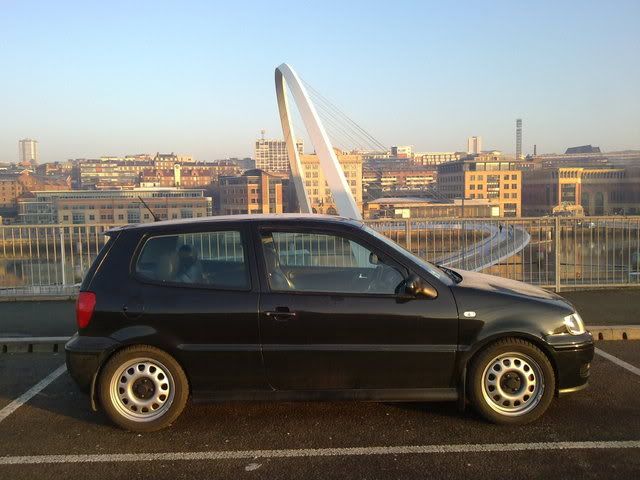 and now: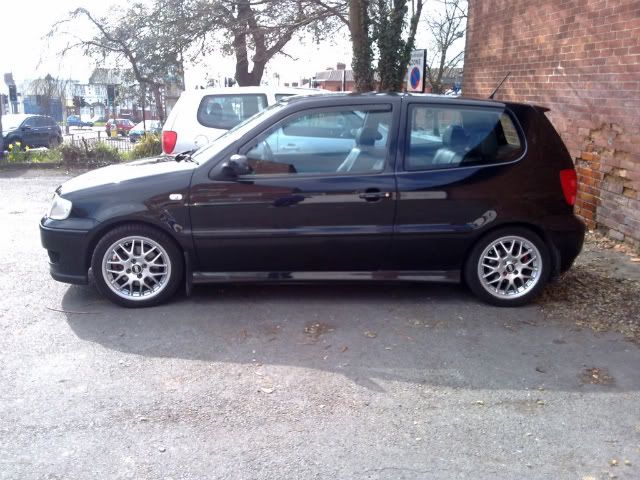 Wheels look good, but i dont think they are wide enough. I have some 16'' RX2's which should be on in summer if i get my finger out & refub them & maybe go lower wehn they on
also put on a few bits & pieces i bought a while back:
tax disc holder off ebay, an aerial off the new polo & some vw dust caps to finish things off.
I desperately need to give the calipers a fresh coat of red paint & it will be geting full service next month so watch this space